Kiwanis Service Leadership Programs (SLP) are leadership and character-building programs hosted in a school or community agency sponsored by a Kiwanis club.
Service Leadership Program
---
Kiwanis Kids (K-Kids) includes three programs for elementary school students between the ages of 6 and 12. In each, the lessons of leadership and self-development are introduced through learning to plan, setting goals, working with others, and celebrating successes. The programs are broken into three components: service, character education, and academic achievement.
---
Builders Club is the largest service organization for middle school students (ages 12 to 14), and is student led. Community-based Builders Clubs also may be established at community facilities such as churches and libraries.
---

Key Club International (KCI), the largest high school service organization in the world, empowers its members to lead and serve by cultivating leadership skills, developing friendships, and performing community service. 
---
Circle K International (CKI) is the premier collegiate and university community service, leadership development, and friendship organization in the world. Circle K clubs are organized and sponsored by a Kiwanis club on a college or university campus. CKI is a self-governing organization and elects its own officers, conducts its own meetings, and determines its own service activities. CKI blends community service and leadership training with the opportunity to meet other college students around the world.
---
Terrific Kids is a student-recognition program that promotes character development, self-esteem and perseverance. "Terrific" is an acronym for Thoughtful, Enthusiastic, Respectful, Responsible, Inclusive, Friendly, Inquisitive and Capable.
Students work with their classroom teacher to establish goals to improve behavior, peer relationships, attendance or school work. All students who achieve their goals after a specified time are recognized as Terrific Kids. Recognition includes being pinned as a Terrific Kid; a pizza, ice cream or other food-themed party; and presentation of certificates and other giveaways.

Terrific Kids Resources
---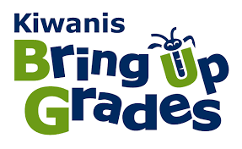 Bring Up Grades or BUG is a program designed to provide recognition to students who raise their grades into an acceptable range and maintain or continue to raise them from one grading period to the next. Recognition includes being placed on the school's BUG Honor Roll; a pizza, ice cream or other food-themed party; and presentation of certificates and buttons.

Bring Up Grades Resources
---
How much impact can a weekend have? It can change a life. Just ask anyone who's attended a Key Leader weekend. Do your part to help teens ages 14-18 learn about their community, build self-confidence and set their own goals. The experience may change your life, too.

Key Leader Resources

Indiana Key Leader
---
Youth Protection
Every Kiwanis club is expected to inform and educate its members on the Youth Protection Guidelines, best practices and required actions for individuals who become aware of youth in potentially harmful situations. This education must occur annually, including providing a copy of these guidelines to each club member.
All adults working with youth under the age of 18 at any Kiwanis event are required to read/understand, agree to and abide by the Youth Protection Policies & Procedures.
---
Background Checks
Kiwanis advisors to any sponsored Service Leadership Program are required to have a criminal background check conducted and verified by Kiwanis International per Kiwanis Policy B.16., Procedure 197. By offering a standard, comprehensive background check for all Kiwanis advisors through Kiwanis International, we can be confident that all Kiwanis clubs are protecting those we serve — and protecting all Kiwanis members.
All chaperones (club members and non-members) taking part in a single day off-school premises or overnight SLP-sponsored event must have a clear background check.
---
Youth Protection Training Request Form
More Youth Protection Information at Kiwanis International